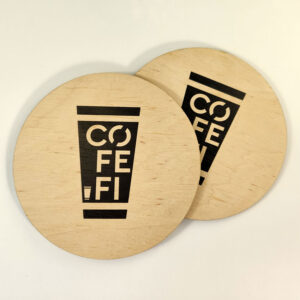 The minimum order value is 100$
This eco-friendly coaster is made out of 3-5-mm thick plywood that measures 100 mm in diameter. The logo of the company was printed on a UV printer.
There can be different types of information printed on the coaster, such as logos, ads, website info, phone numbers, etc.
Please note that we polish all the products made of plywood after they are cut and engraved. Therefore, when you receive your order, it will look neat and be smooth to the touch.
Ordering the "cofe.fl" cup coaster from the Vizinform workshop is easy! Just fill out an application online, send us an email.
Do not hesitate to contact us!