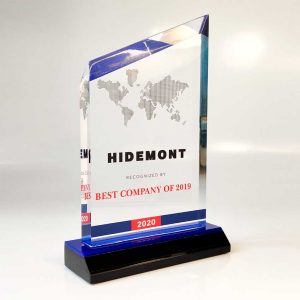 The minimum order value is 100$
Packaging options:
Plywood gift box
Plywood box for each item
Cardboard box
Cardboard box for transportation purposes.
The acrylic award was cut from 20-mm black, blue, and clear acrylic and the ends were carefully polished. The overall dimensions were specified by the client.
All information was printed on a UV printer. There is the name of the company, the nomination, and the year of issue printed on the front side, and on the reverse, there is a stylized map of the world, which symbolizes the company's work around the world.
Ordering the "Hidemont" company acrylic award with the plywood box from the Vizinform workshop is easy! Just fill out an application online, send us an email.
Do not hesitate to contact us!