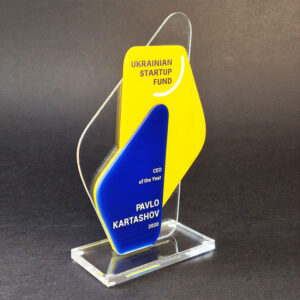 The minimum order value is 100$
The award was made of three layers of acrylic of different colors: blue, yellow, and clear. The UV printer was used to put information on two of the layers. We have printed the name of the organization who will be presenting the award on the upper, yellow part, and the name of the person who will be receiving the award as well as what they will be getting it for on the lower, blue part of the award.
Ordering the acrylic award from a "Ukrainian startup fund" with the plywood box from the Vizinform workshop is easy! Just fill out an application online, send us an email.
Do not hesitate to contact us!